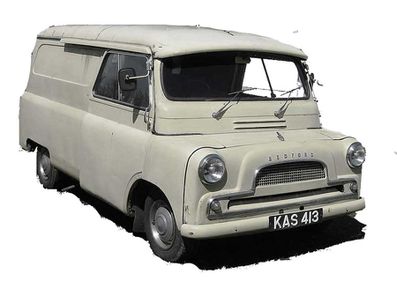 ---


---
---
ZAK WASHINGTON, THE TEACHER: A very good afternoon to you students! It's great to have the pleasure of your company once again. It's seven o'clock in the evening, and it's time to look at another interesting British cultural institution.
FRANÇOIS: This is starting to get very boring. Can't we go to the Tower of London, Big Ben or London Bridge?
ZAK WASHINGTON: Well today is your lucky day François. We are going to visit Big Ben......  .....Here we are in Baker Street. And there it is! Big Ben. The Big Ben Tavern!
FRANÇOIS: You don't want to show us any interesting cultural things at all. You just want a drink!
ZAK WASHINGTON: Shut up will you! The pub is one of the fundamental cornerstones of any society, where different generations can relax after the stresses and strains[1] of a hard day's work, and participate in social intercourse and... well... have a drink.
FRANÇOIS: What are you going to teach us? How to order a drink? How to drink it? It's not difficult. Pick up a beer. Put it to your lips. Voila!
ZAK WASHINGTON: Go and get the drinks then, big mouth! Yes, Sophie? What?
SOPHIE: Teacher, I am a very respectable Catholic girl. I do not like to drink much. I hope that you do not intend to get very drunk.
ZAK WASHINGTON: Errr...no. Of course not Sophie.
FRANÇOIS (speaking to the barman.):  Waiter! Give to me one beer!
3.5 François has made several mistakes. What are they? What could he have said to sound more natural?
ZAK WASHINGTON: What terrible English you speak! Take a look at that English gentleman over there. Listen to the way he orders a drink correctly.
ANJA: That's not a gentleman. He has a skinhead with tattoos, earrings, a football shirt and a bulldog. Hey! It's a real hooligan?  (Students run over to take selfies with a 'real' hooligan.
HOOLIGAN:  Oi! Barman, gimme a pint of lager[2]! Hello there, Zak Washington! How's it going mate?
ZAK WASHINGTON: Errr.. Hello Dave.
MARIA: I don't believe it! Do you know that horrible man?
(Ding, ding, ding. A bell sounds behind the bar.)
SOPHIE: Oh, no I think that there's a fire!
ZAK WASHINGTON: No, Sophie. That's the last orders bell. It's not a fire. But it's definitely an emergency. So quick, let's get some drinks before the pub closes.
---
[1] Stresses and strains (nouns) troubles, difficulties, problems, anxieties, etc.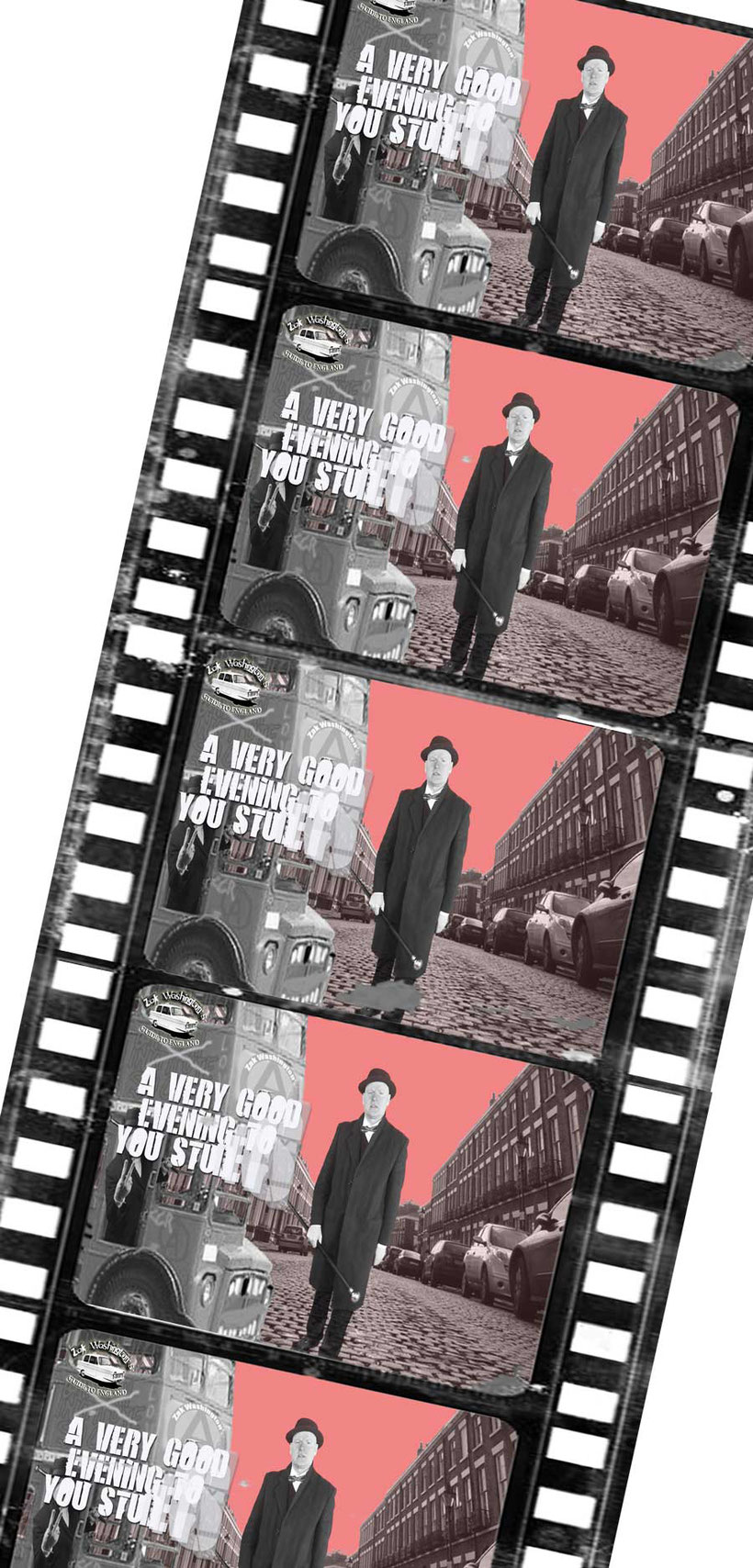 ---

---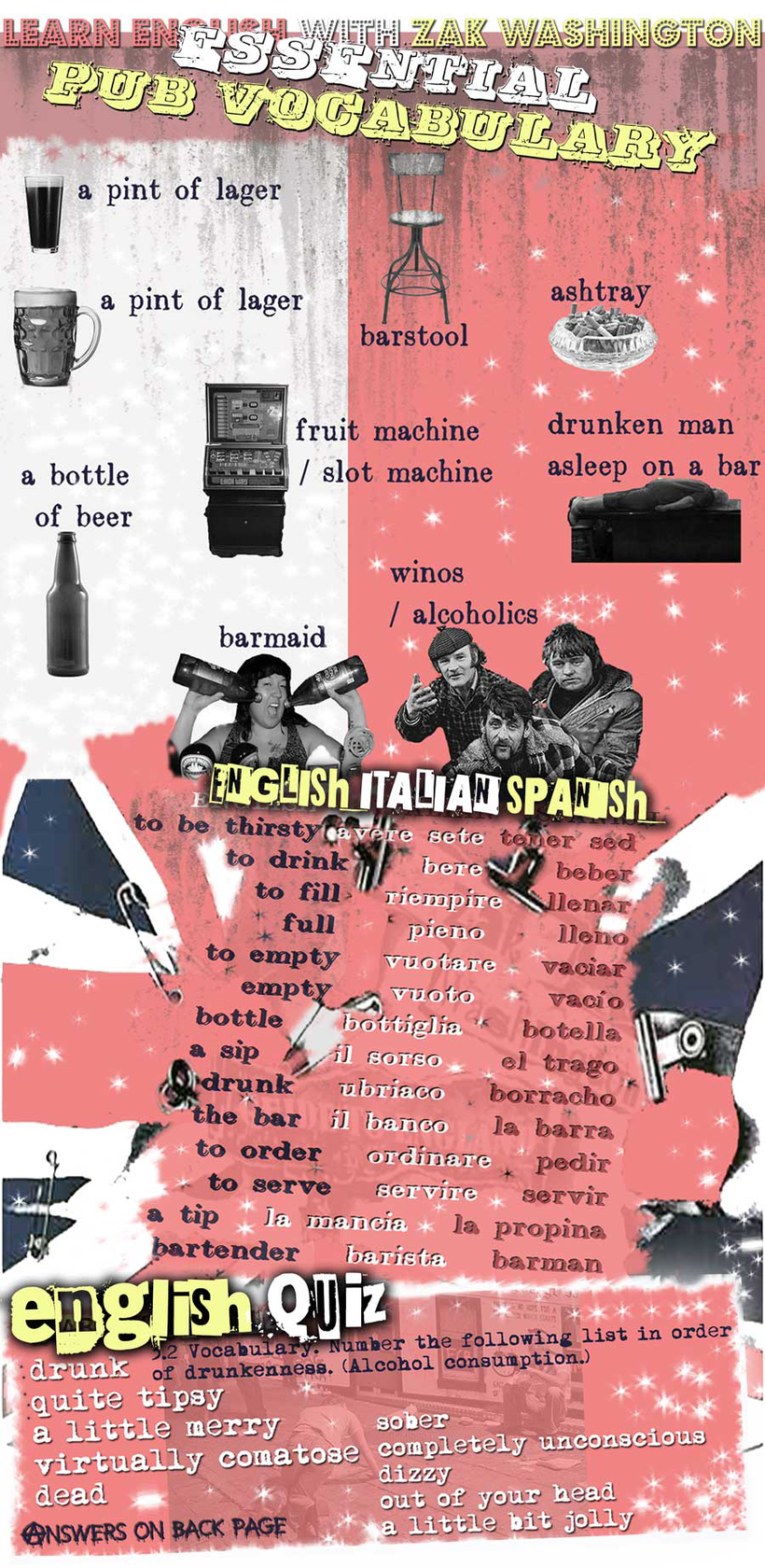 ---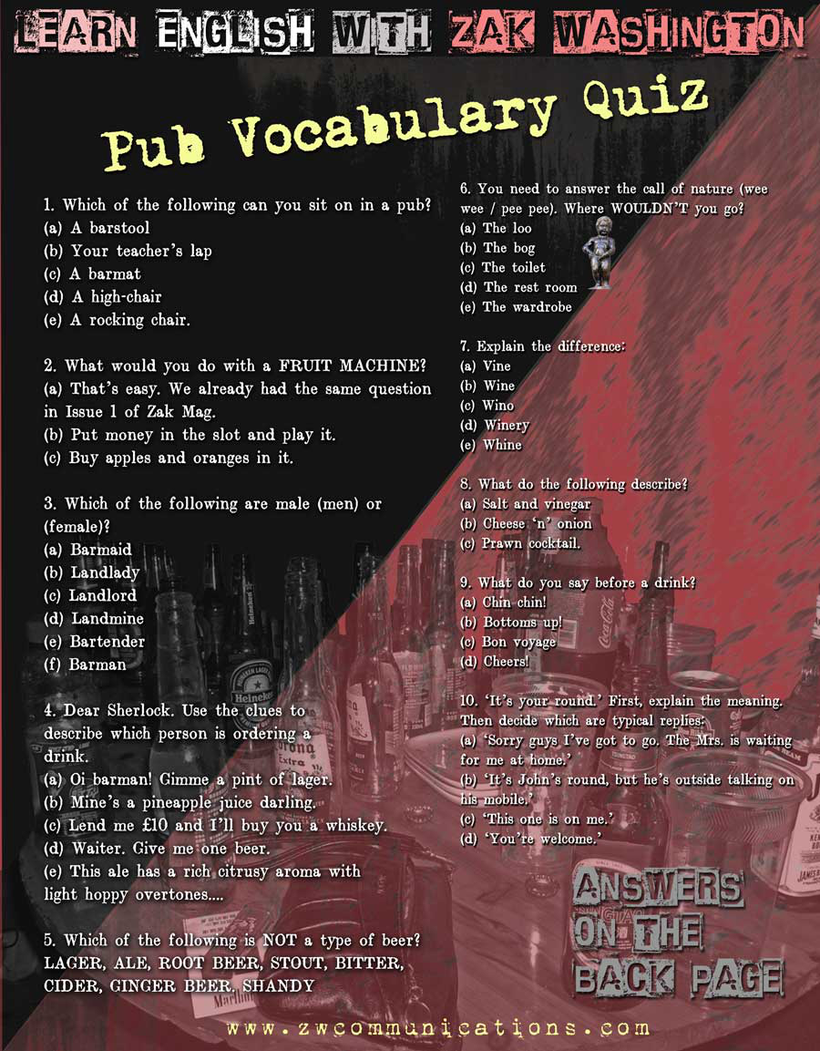 The answers are down below at the bottom of the page - Scroll down!
---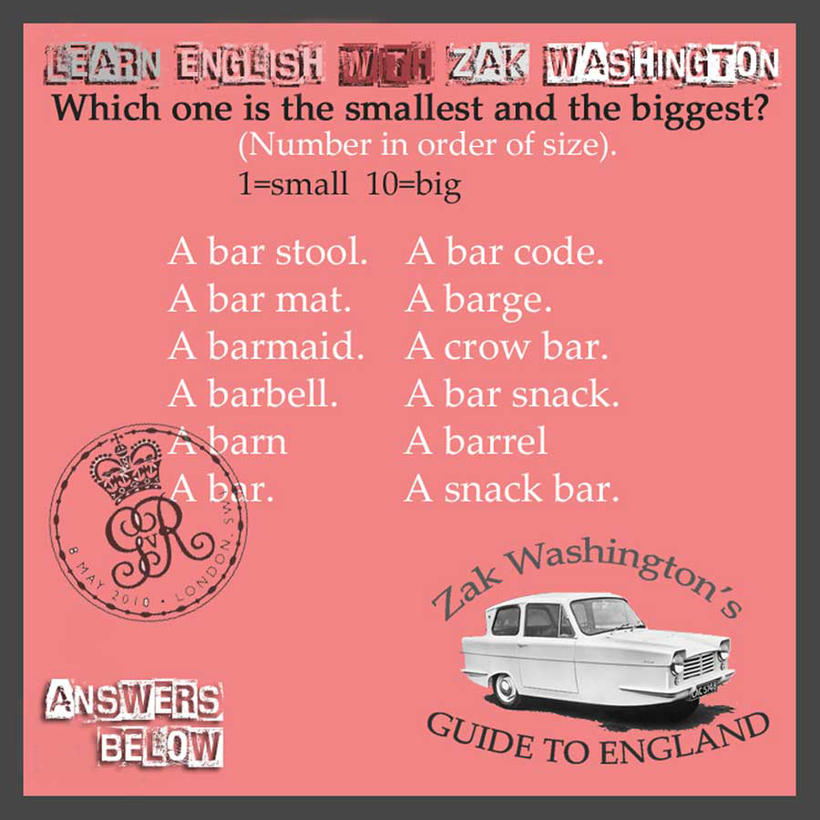 ---
---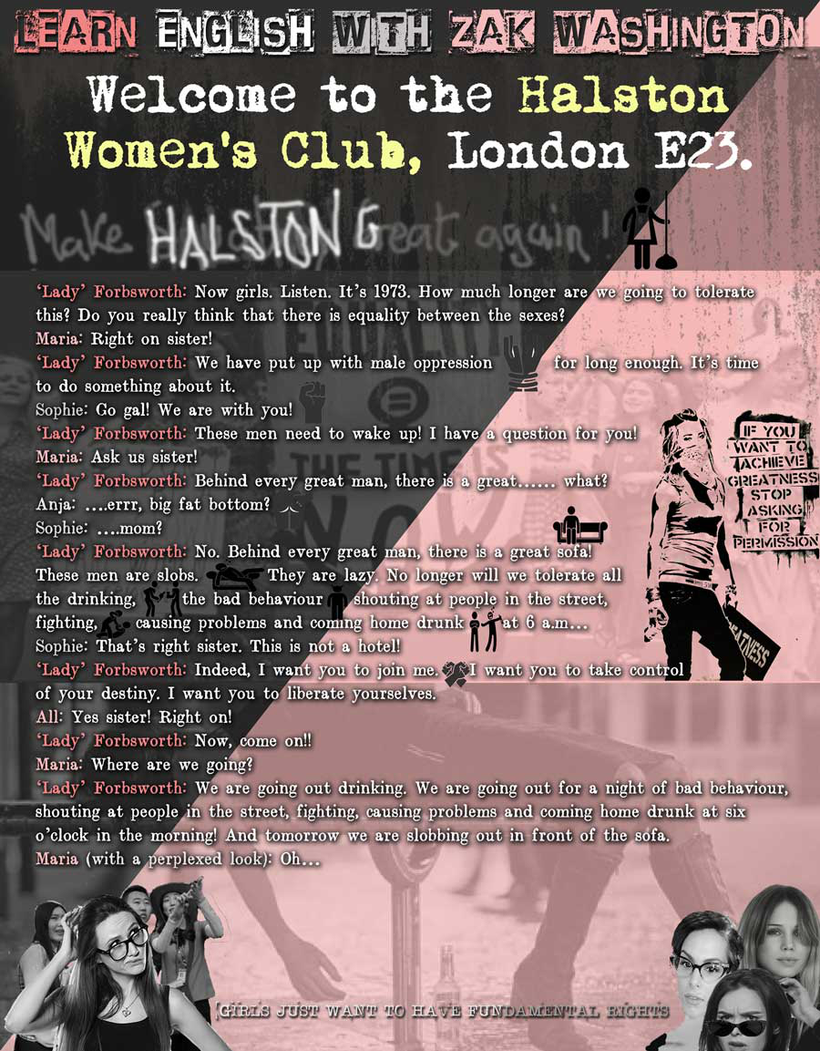 ---

What are the modal verbs for certainty? (Positive and negative.)
What are the modal verbs for possibility? (Three possibilities.)

---
Three hours later, everybody is completely drunk. Giovanni is kissing what he thinks is a beautiful English babe, but who, in reality, is a transvestite pick-pocket [1]. Maria is homesick and crying. Sophie is doing a strip-tease half naked on the bar, and has French kissed [2] half the pub.
ZAK WASHINGTON: Hey! Where is François? I haven't seen him for at least twenty minutes.
AHMET: When did you see him last?
[1] To pick pocket to steal from a person (wallet, money, etc normally without violence).
[2]To French kiss is like 'a kiss' but usually much longer, wetter and more passionate. Other interesting ways of describing the same action are to snog, a kind of teenage word, and the American phrasal verb to make out. 
---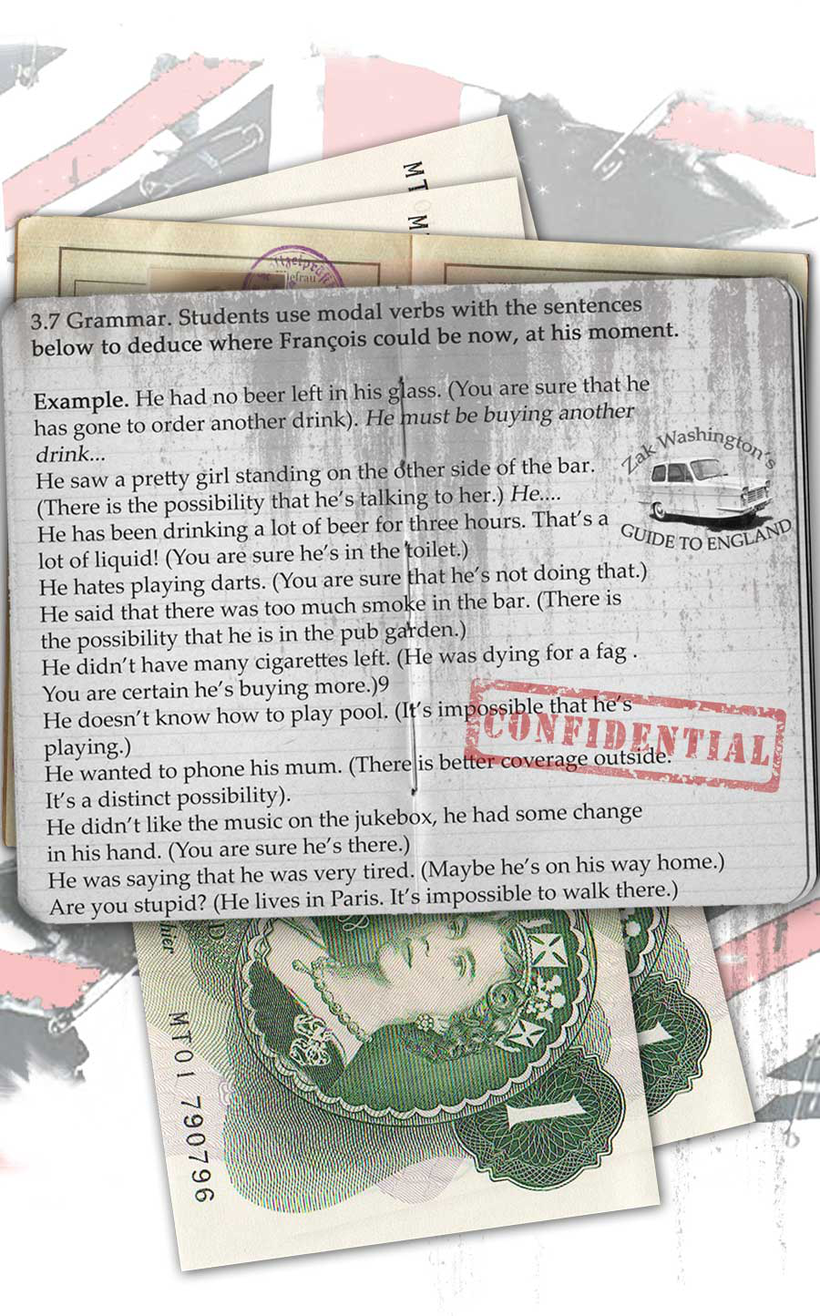 ---
ZAK WASHINGTON: This is very mysterious. Let's think about what he was doing in the last moments before his disappearance.
GIOVANNI: (now smoking a Sherlock Holmes pipe.) He seemed very interested in a blond girl who was at the other side of the bar.
SOPHIE: (now wearing a Sherlock Holmes hat.) He had gone to the bar, was drunk and talking to various people about how he didn't like England.
MARIA: (now with a Doctor Watson moustache.) That hooligan was looking at him in a strange way.
ANJA: I think I saw him going to the toilet. I'm going to look for him.
(Later)
ANJA: Oh, my God! I've found François, he was lying on the restroom floor completely wet with blood on his face! Here he comes now!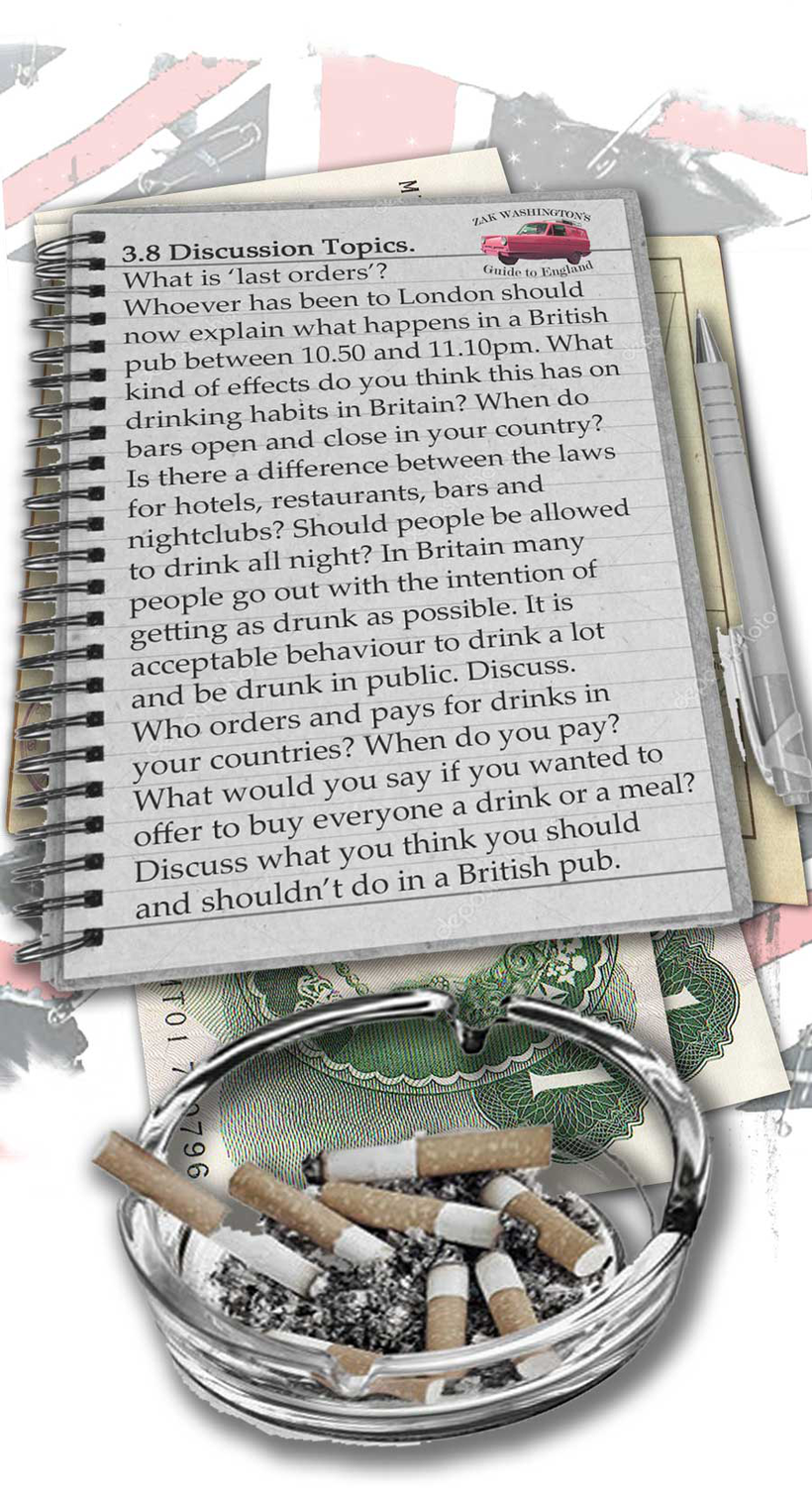 ---

What are the past forms of must, may, might, could and can't?
Students now speculate about what has happened to François, but this time using modal verbs in the past.

---
 FRANÇOIS: (arriving back from the loo[1].) I have had a terrible experience....I went to chat up[2] a pretty girl at the bar. It turns out[3] that she was the hooligan's girlfriend.....he followed me to the bathroom.....he beat me up.....then he put my head in the toilet and pulled the flush....he made me drink the water from the toilet bowl to teach me a lesson......and then he mugged[4] me. You English people are horrible! Why do you do this? You drink so much and then you...
3.10. Explain exactly what has happened to him.
ZAK WASHINGTON: Hey! Wait a minute. It's not my fault!
---
[1] Loo (noun) (colloq.) You are in a British pub and you need to answer the call of nature! What do you ask for? Which door do you go into? Asking for the loo is a friendly and fairly polite British way of saying toilet, a word that natives often prefer not to use. Loo is probably the safest word to use in most situations in Britain, either in public places or private homes. Both words also refer to the receptacle that you find in the bathroom. This is a problematic area in English, as there are so many words that can refer, in different ways, to the same thing. You might sound a little strange asking for the bathroom in a pub, as there is no bath, but it is perfectly acceptable in someone's house. The word W.C. is very old fashioned and not used (except in Spain!). Similarly little boy's room and women's powder room, which sound Victorian. Restroom is polite, socially acceptable, but will make you sound like an American tourist. The john and the can are also American, but are very colloquial. The dunny is a comical Australian way of expressing the same idea, the bog  and the crapper are very crude slang words in Britain, not to be used in good company. Other  things that you might find on the doors of public toilets in bars are the letters G and L. Which one would you enter? G means Gentlemen (sometimes written as Gents), and Ladies. You might also find his and hers, guys and gals, or even as John and Jane.
[2] To chat up to talk to somebody with romantic intentions. If you are successful, you can say that you have picked up.  
[3] To turn out to have the result of.
[4] To mug to rob a person violently (usually in the street). 
---

---
The two students sitting furthest from the teacher should role-play the conversation that took place between the hooligan and François in the gentlemen's toilets of the bar. The tallest student will be the hooligan. The other François. The two students nearest the board could act the scene out. 
---

What are the modal verbs for advice? (Positive and negative.) What are their past forms? Everybody should give advice to François. What should/shouldn't he do now? Take it in turns to be François. Use the following prompts.
I have wet hair. You ought to......
I have blood on my lips.
I feel terrible. I've drunk too much.
They have taken all my money.
I hate Great Britain.
How am I going to get back? My ticket was in my wallet.
What will I tell my family?
My head aches. My stomach is turning over.
I think I am going to be sick.
I'm never going to drink again.
What about informing the authorities?
All I wanted was to come to London, see a few sights and learn a bit of English.

---

What should/shouldn't he have done before the beating? Continue as above but now use the past forms to give advice.
I was stupid enough to listen to Zak Washington.
It would have been better to visit the Tower of London.
I don't drink regularly. I got drunk very quickly.
I drank far too much.
I only wanted to chat up a pretty English girl.
How did I know that she was Dave the Hooligan's girlfriend?
I took my wallet out. Everybody saw that I had a lot of money.
I went to the restroom alone.
Dave the Hooligan said he wouldn't hurt me if I apologised[1] to him.
I wish I had stayed at home in my own country.
[1] To apologise to say sorry.

---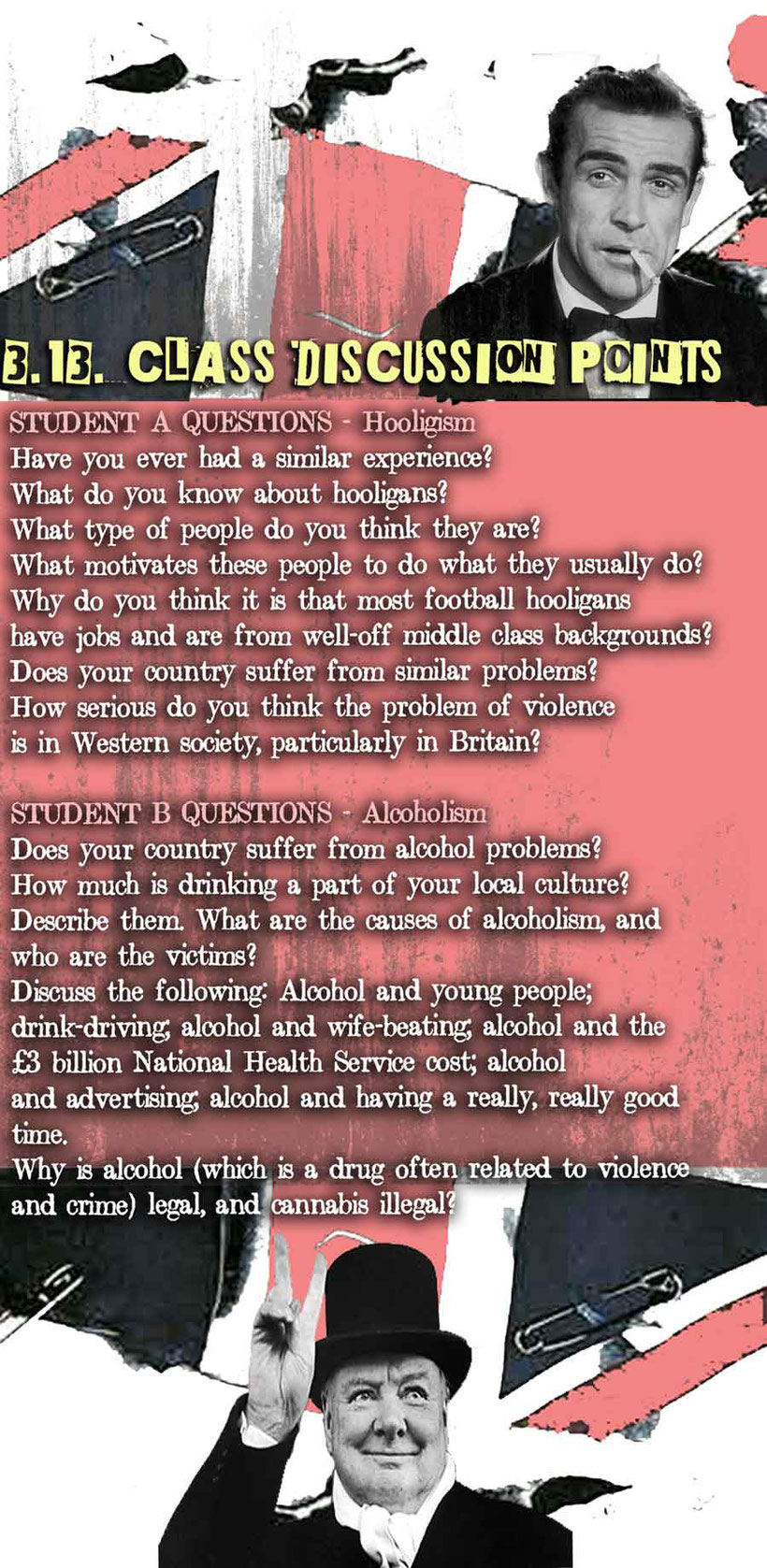 ---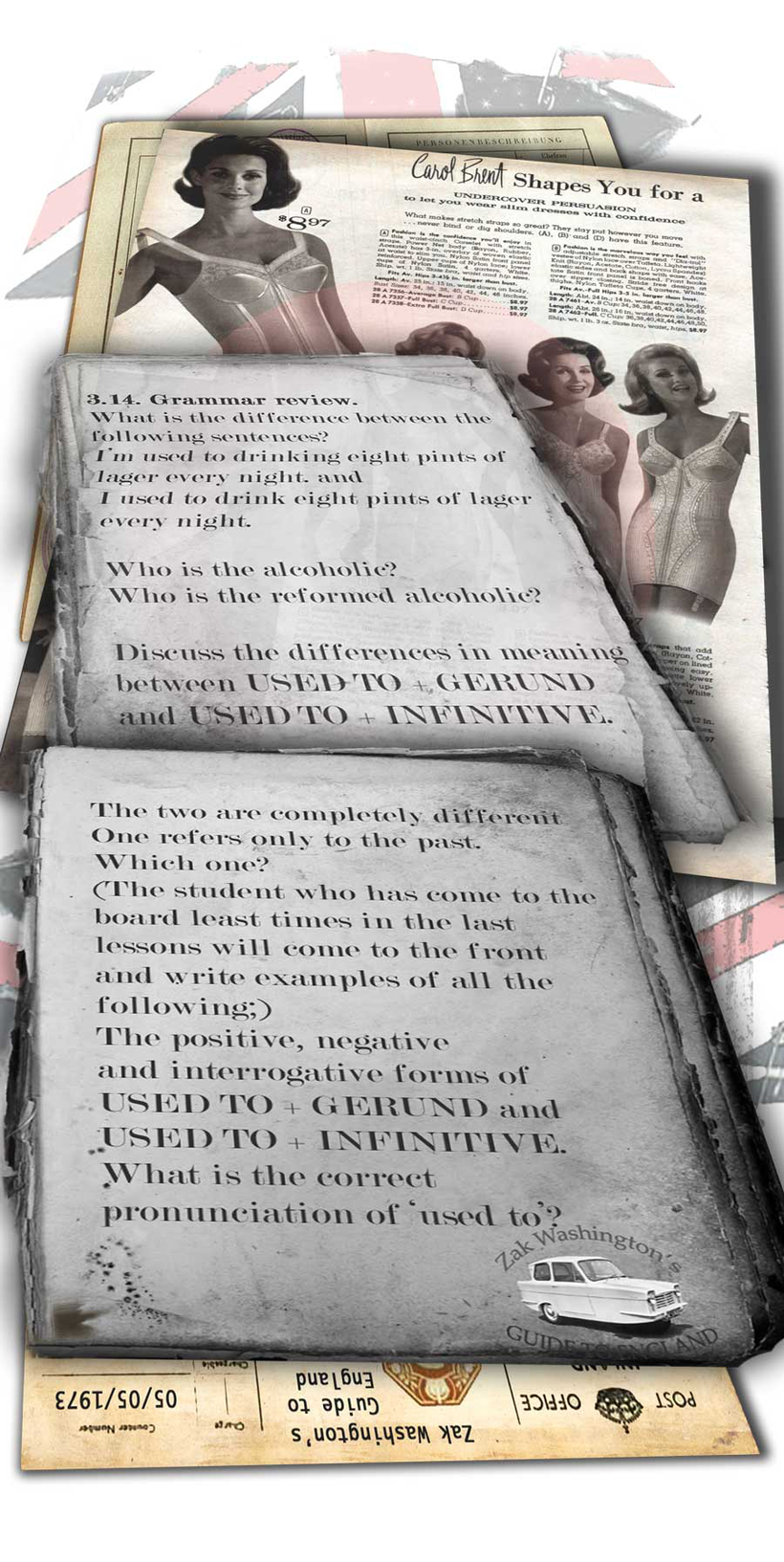 ---
Think about your country and discuss the following using only USED TO + INFINITIVE. Clothes, hair, music, entertainment and lifestyle in the 1960s. Now do the same for the following decades. 1970s, 1980s, 1990s. What were the differences between your country, the United States and Britain during these decades?

---

Now let's use the two structures USED TO + GERUND and USED TO + INFINITIVE together. It is absolutely essential to not get the gerund and infinitive mixed up, as the meaning changes completely. You will be given different situations. You must get together with a partner and ask and answer about each situation.
Example;
You've just left home for the first time.
What did you use to do? I used to come home before midnight.
What didn't you use to do? I didn't use to come home at six o'clock in the morning.
What are you getting used to doing?  I'm getting used to cooking my own food.
Now do the same for the following situations.
a.       You've moved to a dirty flat in London with awful English students.
What did you use to do? What didn't you use to do? What are you getting used to doing?
b.       You've given up your job at the old people's home.
c.       You're unemployed.
d.       You've given up smoking marijuana.
e.       You've succeeded in stopping gambling.
f.        You've got married to a strict feminist (men)/an awful male chauvinist (women).
g.       You've become one of those old, miserable pensioners that you've always hated.
h.       You've become the millionaire author of a truly original book.
i.       You've got married to the prince/princess.
j.        You've got divorced from him/her.
Now close your book and repeat the process in pairs with your own examples. Be very careful with the gerund and infinitive. 
---
---

---
---