[3] (to) Over-charge to ask more money for something than the normal price. Tourist prices!
---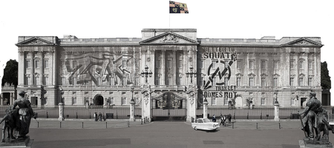 Introduction. Adjectives to describe character. Travel. Tourism
1. The Betting Shop Verbs followed by gerunds and infinitives. Gambling.  
2. The Dole Office. Conditionals. Conditional inversions. Phrasal verbs. Social security. Signing on. Job interviews.
The London Survival Game. How to get by in the capital.
3. The Pub. Modal verbs for deduction and advice. 'Used to' plus gerund/infinitive. Drinking.
Anja's guide to speaking perfect English. Part one. Pronunciation.
4. Brighton Beach. Fast food. Globalisation.
5. The Indian. Countable/uncountable nouns. Eating habits. Cookery.
Anja's guide to speaking perfect English. Part two. Pronunciation.
6. The Police Station. Revision of Tenses. Modal verbs of obligation. Pronunciation. Crime school.
7. The Greasy Spoon Café. Phrasal verbs. Contractions. 'Ain't'. Pronunciation dictation.
8. The Squat. Dependant prepositions. Squatting. Homelessness.
9. The Bus and Underground. Phrasal verbs. Directions. Transport.
10. The Royal Revue Strip Bar. Reported Speech. Short Answers. Question tags. The Sex Industry. Censorship.
11. The Royal Revue Strip Bar. Can. Could. Be able to, Manage to. Adjectives. Physical appearance.
12. The Newsagent's. Adjectives for describing appearance. Active and passive tenses. Do or make? Shops. Newspapers. The Press. Magazines. Celebrities.
13. The Jumble Sale. 'Used to' plus gerund/infinitive. 'Got to', 'Need to'. Adjectives –ED and –ING endings. New or second-hand? Paris. Bric-a-brac. Clothes. Fashion. Names.
14. Speakers Corner. Future tenses. Freedom of speech. Heckling. Arms. Weapons. Crimes.
15. The Old Bailey. Gerund and infinitive with a change of meaning. Revision. Law and Order. Languages and Dialects.
16. Her Majesty's Prison Woodworm Shrubs. Revision. Swearwords. Insults. X-certificate English. 
CLICK WHERE YOU SEE THIS BUTTON FOR PART THREE WITH ANSWER KEY, SOLUTIONS, DISCUSSION POINTS and ADDITIONAL READING MATERIAL
---
1. How to find a flat or accommodation in London or one of the big cities in England.
2. How to use (or abuse) the jobcentre, and some interesting ideas on how to get a job.
3. What you will need to bring with you when you go.
4. What to eat and drink in England.
5. Driving in England. Driving signs and signals. A typical day's driving in the capital. Learning to drive.
6. Sending and understanding messages sent by email or mobile phone.
7. English for domestic arguments.
8. The West End and East End of London. Cockney Rhyming Slang. Cockney Dictionary. Pronunciation.
9. English for finding a boyfriend or girlfriend. Chat-up lines.
---
Read PART ONE and PART TWO.
Do the exercises. Discuss the points with your teacher, classmates or friends. Play the games. Do the activities.
Now go to PART THREE.
Find all the answers, information, explanations, grammar, vocabulary. Learn about English culture. 
---
---
---
---
---
Dear Raji Fred,
Hello darling! How do you do?/How have you been? This is your favourite little Queenie here. It's been so long/so long time since I last saw you. I'm absolutely dying to get my hands on you again, and pass/spend some time together. Being/to be a monarch can be so boring sometimes. I get tired with/of/from all those stupid diplomats and tedious European royals. Yesterday, I must have/had to spend all day long with the Danish royal family. What bored/boring people! Then my usual meeting with the prime minister; I wish he'd brush his teeth occasionally. Anyway/By the way, enough of this nonsense.
Why don't you come up to my palace in Balmoral next week to talk around/talk over some of the plans for the royal wedding? What a splendid event it is going to be! I hope it'll be even more successful than Charles and Diana's. Between you and me, I never did care much for that Diana. My nephew/niece Lady Sara Winthorpe is so excited and nervous. The press are following her everywhere. I'm really so glad that she is getting married to your son Ali. Ali is such a charming, handsome gentleman. He's yet/already become very popular with the British public. The only thing that really worries me is his English. He hasn't spent much time living in this country and I'm worried about him not understanding our language and culture. Therefore/Moreover, I've arranged for some special classes for him, to prepare him correctly for the wedding. He will have his own particular/personal teacher, a very competent professional called Zak Washington. Ali starts studying with him tomorrow. The sooner, the better, eh?
Write me/write to me soon, and tell/say me if you want to come and see your little Queenie in Balmoral Palace. I might have to punish you for not having kept in contact for so long! Naughty little boy!
                The Queen of England.
---
---
---
Role Play ONE
Student A.  You are the Queen of England. You are bored with your job. Your husband is an alcoholic disaster who spends all day chatting up the attractive chambermaids at the palace. You have become good friends with a 55-year old businessman Raji Fred. He is extremely rich and influential and very attractive too. You would love to have a romance with him. You have invited him to your palace in Balmoral to talk to him about the wedding of your niece Lady Sara Winthorpe. She is going to get married to Raji's son. Your real intention is to seduce hunky Raji. Don't let him distract you with talk about the wedding. You need romance, affection and possibly a new husband. But don't forget, you are the Queen of England, and you have to keep the image of respectability. 
Student B.  You are Raji Fred, a rich, noble, decent businessman. Your diligent hard work and industry have made you extremely wealthy and influential. You have become good friends with the Queen of England,  a friendship you wish to nurture. The only problem is that she fancies you. That is, she thinks you are very attractive and desirable. You like her as a friend and businesswoman, but you aren't considering a relationship. She is the Queen of England! She has invited you to Balmoral Palace to discuss arrangements for the marriage between your son Ali and her niece Lady Sara Winthorpe. You are both sat in armchairs in the magnificent palace. You must insist that arrangements are made for transport, the correct ceremonial route, family photographs, press releases and a million other important issues. Don't let her start talking about romance. She's not your type, and besides, she always smells of gin and tonic, the poor old woman.
---
---
Use the adjectives below to describe each of the characters above (0.0 Meet the Characters!)
For example. Anja is very demanding, fussy and conceited. Zak Washington is cocky. Sophie is up-tight. Which adjectives describe you and your friends?
outspoken [1]     gentle    obnoxious [2]     cold     perverted     changeable     desperate     intimidating       pragmatic      polite     highly-strung [3]     up-tight [4]      fussy     easy-going      vulnerable     repressed      offensive     gung-ho    influential     conceited     sweet     cocky[5]     faithful     gorgeous      robustclumsy     over-the-top[6]     shy     modest      untidy      methodical      selfish     kind      sentimental      gross[7]    fun     wealthy    funny      demanding  
[1] Outspoken (adj) opinions that are very strong, often too strong. Can be used negatively or positively. 'That guy is so outspoken, he says exactly what he thinks and usually upsets somebody.'
[2] Obnoxious (adj) very loud, rude, crude, and often quite offensive. 
[3] Highly-strung (adj.) a very useful word that describes people who are too tense, too sensitive, too changeable and very volatile. These are the type of people that need to be treated with care, as they usually have bad tempers and are very emotional.
[4] Uptight (adj.) stressed out, tense, sexually repressed, similar to 'highly strung', although uptight is perhaps more useful to describe a temporary state.
[5] Cocky (adj.) a humorous word used to describe males, mainly young men, who have an enormous amount of confidence, cheek, and nerve. They usually walk like John Travolta in Grease, and think that they are God's gift to women like Rod Stewart used to, and have a mouth like Mohammed Ali's.  
[6] Over-the-top (adj.) very excessive and exaggerated. People, behaviour, films, music etc.
[7] Gross (adj.) disgusting, nasty, horrible, rude, tasteless, crude. Very popular in American English to describe people, food, behaviour etc. 
---
DESK SERGEANT REYNOLDS, a respectable police officer who likes sleazy Soho nightspots.
THE TICKET INSPECTOR, (London Underground). 2,000,000,000 people speak English. It takes a very special talent to speak it worse than all of them. Meet the man.
DAVE THE TRANSVESTITE PICKPOCKET will have his hands in your pockets, looking for your jewels in no time. 
ABDEL, the proprietor of the Kebab Delight Restaurant, quite possible the capital's most horrible and disgusting restaurant. Learn English free there. 
CHRISTOPER OFF, a lovely gentlemen with a phrasal verbs fixation.
---
---
Which adjectives can you think of to describe the qualities necessary for the following jobs? A fireman, an actor, a corrupt politician, and a taxi driver. Make a list of all the other adjectives that you can think of, and put them into the following list. Usually, they will fit into the 'POSTIVE' or 'NEGATIVE' lists. An adjective such as 'mean', for example, is always negative. Similarly, 'generous' is always positive. A word such as 'ambitious' is more problematic, as this can have either negative or positive connotations.  When you have finished, discuss the differences as a group. 
---
---
Student A. You are Zak Washington, a lazy and corrupt English teacher who is determined to take advantage of as many rich, gullible[1] foreign students as possible. You are going to speak to an Algerian gentleman called Abdel who is the owner of the disgusting Kebab Delight restaurant on the Old Kent Road. You think that Abdel is the perfect man to help you make money. Talk to him about how you can send foreign students to him to 'supposedly' [2] learn English. Tell him that he can make them buy a lot of his food, and that you will only need a small commission of 40%. You want to get as much commission as possible, so you will have to negotiate hard. Convince him that you can put his horrible little restaurant in every student guidebook in the world, and turn his premises into an international cultural exchange centre, where thousands of students can meet to exchange ideas, languages and spend lots of money.
Student B.
You are Abdel, the owner of the famous Kebab Delight restaurant! You are eccentric, a little crazy even. You are going to make an agreement with a good-for-nothing English teacher. He wants to send you gullible foreign students who have too much money, and in exchange, he wants you to pay him a commission. Negotiate with him but don't offer him any more than 5%. You don't need this moneymaking fool to tell you how to run your business! What you are really interested in, are some of those pretty English girls that always go around with[3] him. Try to convince him to send some of these lovely ladies over for a 'cultural interchange'. If any of these students arrive, try and persuade them to spend as much money as possible, but don't tell him that you give a commission to the teacher. Be as rude as possible, but don't be offensive, and ask very personal questions about all of their private lives.
Student C. (For groups with multiples of three students.)
You are a Japanese student who has recently arrived in London. You want to go to The Kebab Delight to practice your English according to your teacher's recommendations. When you arrive you find a disgusting dirty little take-away restaurant whose owner is clearly mad[4]. You have spent three hours trying to find the place because you were given bad directions, and it has cost you a fortune in travelling expenses. You are cold, tired, hungry, and desperate to practice English. Talk to Abdel as much as possible, but remember you are a shy Japanese gentlemen that doesn't like to talk about anything too personal. And try not to buy any of his typically disgusting English food. Find out what his relationship with your teacher is.
---
[1] Gullible (adj.) ready to believe anything.
---
---